Liberal Arts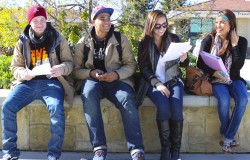 The liberal arts associate degree's integrated curriculum offers students a broad knowledge of the arts, humanities, mathematics, sciences, and social sciences, and it presents an appreciation of their contribution to society from historical and contemporary perspectives. Students are provided with a well-rounded education that offers the opportunity for depth of knowledge within an area of emphasis. This multidisciplinary approach enables students to develop communication, critical thinking, and intellectual skills that effectively prepare them for lifelong learning and advanced study in a wide range of majors at the university level. Career paths after the attainment of a bachelor's degree include the fields of administration, communications, education, finance, law, management, and the visual and performing arts.
Students should select two or more courses within a single discipline in an "area of emphasis" to expand their depth of knowledge within a discipline. Students are advised to meet with a counselor to select the area of emphasis that is most appropriate to their educational goal. All courses in the area of emphasis must be completed with a letter grade of "C" or "P" or better. Students may earn only one emphasis within the liberal arts major.
Contact Information
| | |
| --- | --- |
| Dean: Al Taccone | Office: Building OC4800, 760.795.6881 |
Full-Time Faculty
Associate Degrees
Degree programs include the completion of a general education (GE) pattern of courses. The knowledge, skills, and abilities gained as a result of completing general education, referred to as GE outcomes, can be viewed here.
Associate in Arts Degrees