Nutrition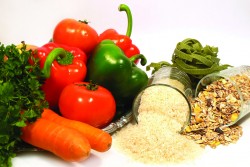 The Nutrition discipline includes courses that provide students with the scientific basis and applied knowledge of food and nutrition. The courses fulfill general education requirements and also enable students to transfer and pursue majors in nutrition or other health-related majors. Nutrition majors work in health-care facilities, community and public health organizations, academia and research, the food industry, health/fitness and sports industries, journalism, and general business corporate wellness programs.
Contact Information
Department Chair: Robert Fulbright

Dean: Al Taccone

Department: Kinesiology, Health and Nutrition

Office: Building OC4800, 760.795.6811
Full-Time Faculty
Associate Degree
Students interested in the field of nutrition can earn an Associate in Arts degree in Liberal Arts with an Area of Emphasis in Applied Health, Nutrition, and Kinesiology (see degree requirements).
Certificates
Certificate of Proficiency
Fitness Nutrition Specialist
This certificate provides the knowledge, skills, and abilities to successfully work with clients and athletes seeking basic nutritional guidance and to fight the battle against global obesity. It is designed for students currently working on or holding the Personal Fitness Trainer Certificate of Achievement. Upon completion of the certificate program, students may consider sitting for the National Academy of Sports Medicine (NASM) Fitness Nutrition Specialist exam, the American Council on Exercise (ACE) Lifestyle & Weight Management Coach exam, and/or the International Fitness Professionals Association (IFPA) Sports Nutrition Specialist exam.
Required courses:

 
NUTR 100
Nutrition Today
3
NUTR 105
Human Performance and Sports Nutrition
3
NUTR 108
Cultural Aspects of Foods and Nutrition
3
KINE 204
Techniques and Analysis of Fitness and Weight Training
3
Total Units
12
How to Read Course Descriptions
Courses
NUTR 100: Nutrition Today
Units: 3
Prerequisites: None
Acceptable for Credit: CSU, UC Credit limitation
Lecture 3 hours. (0837.00)
This course relates scientific concepts of nutrition to the function of nutrients in basic life processes. It emphasizes individual needs; functions and sources of nutrients; current nutrition and health issues; scientific method for analysis and evaluation of nutrition information; dietary guidelines and current nutrition recommendations; digestion, absorption, and metabolism; health, fitness, and disease; nutrition in the life span; and food safety. Students evaluate their food intake using several methods, including a computer diet analysis. UC CREDIT LIMITATION: Credit for NUTR 100 or NUTR 105.

NUTR 105: Human Performance and Sports Nutrition
Units: 3
Prerequisites: None
Acceptable for Credit: CSU, UC Credit limitation
Lecture 3 hours. (0837.00)
This course introduces nutrition concepts to individuals interested in sports, fitness, and health for various stages of the life cycle. It emphasizes current theories and practices related to nutrition and athletic performance. Topics include macro and micro nutrient intakes, hydration, pre- and post-event food, supplements and ergogenic aids, weight control, and body composition related to performance. The course also examines the cultural, sociological, and psychological influences related to nutrition, fitness, and athletic achievement. UC CREDIT LIMITATION: Credit for NUTR 100 or NUTR 105.

NUTR 108: Cultural Aspects of Foods and Nutrition
Units: 3
Prerequisites: None
Acceptable for Credit: CSU, UC
Lecture 3 hours. (0837.00)
This course examines the regional, ethnic, cultural, religious, historical, and social influences on food patterns, cuisines, and health as well as how food is viewed as an expression of cultural diversity. Students discuss, sample, and assess traditional foods of geographic areas and cultures. They also explore geographic factors in food availability, global food issues, dietary habits, religious influences on food culture, and nutrition problems of various ethnic groups. The course also addresses nutrition consequences of ethnic food choices and sanitation and safety practices.

NUTR 292: Internship Studies
Units: 0.5-3
Prerequisites: None
Corequisite: Complete 75 hrs paid or 60 hrs non-paid work per unit.
Enrollment Limitation: Instructor, dept chair, and Career Center approval. May not enroll in any combination of cooperative work experience and/or internship studies concurrently.
Acceptable for Credit: CSU

This course provides students the opportunity to apply the theories and techniques of their discipline in an internship position in a professional setting under the instruction of a faculty-mentor and site supervisor. It introduces students to aspects of the roles and responsibilities of professionals employed in the field of study. Topics include goal-setting, employability skills development, and examination of the world of work as it relates to the student's career plans. Students must develop new learning objectives and/or intern at a new site upon each repetition. Students may not earn more than 16 units in any combination of cooperative work experience (general or occupational) and/or internship studies during community college attendance.

NUTR 296: Topics in Nutrition
Units: 1-3
Prerequisites: None
Acceptable for Credit: CSU
Lecture 1 hour.
Lecture 2 hours.
Lecture 3 hours. (0837.00)
This course gives students an opportunity to study topics in Nutrition that are not included in regular course offerings. Each Topics course is announced, described, and given its own title and 296 number designation in the class schedule.