Mathematics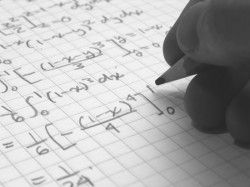 Mathematics, the abstract, deductive study of pattern and structure, is the foundation of all science and technology programs, such as biological, physical, computer, behavioral, and social sciences as well as engineering. Areas of mathematics include arithmetic, algebra, geometry, calculus, and various other theoretical and applied subjects. Students take mathematics courses to prepare for a mathematics major, to meet prerequisites in related disciplines, or to fulfill general education requirements. A bachelor's degree in mathematics can lead to a career in a computer-related field or as an actuary, accountant, mathematician, statistician, or teacher.
Contact Information
Full-Time Faculty
Janeen Apalatea
Peter Avery
Angela Beltran
David Bonds
Keith Dunbar
Scott Fallstrom
Shannon Gracey
Julie Harland
Mark Laurel

Lemee Nakamura
Victoria Noddings
Zikica Perovic
Brent Pickett
Beth Powell
Mohammed G. Rajah
Leila Safaralian
John Towers

Associate Degree
Associate in Science Degree
Associate in Science in Mathematics for Transfer Degree
Students completing this associate degree will have completed lower-division major preparation requirements for a mathematics degree, an emphasis or option within a mathematics degree, or a degree considered similar to mathematics at a participating California State University (CSU) campus. Following transfer to a participating CSU campus, students will be required to complete no more than 60 units to obtain a bachelor's degree; however, some CSU campuses may require additional lower-division major preparation. This degree may not be appropriate preparation for students transferring to a CSU campus not accepting this degree or to a university or college that is not part of the CSU system. Students should consult with a MiraCosta counselor for further information regarding the most efficient pathway to transfer as a mathematics major and to determine which CSU campuses are participating in this program.
To complete the degree, students must fulfill the following requirements: 
Complete 60 semester (90 quarter) CSU transferable units

Complete all courses required in the major with a "C" or better

Complete the CSU-GE or CSU-IGETC

general education pattern

Achieve a minimum CSU transferable GPA of 2.0

Complete a minimum of 12 units in residence at MiraCosta College.
 
Required courses:

 
MATH 150
Calculus and Analytic Geometry I
5
or MATH 150H
Calculus and Analytic Geometry (Honors)
MATH 155
Calculus and Analytic Geometry II
4
MATH 260
Calculus and Analytic Geometry III
4

Select two courses from the following group:

6
Discrete Mathematics
Differential Equations
Linear Algebra
Total Units
19
Students are strongly advised to complete the History, Constitution, and American Ideals requirement prior to transfer.