Transfer Options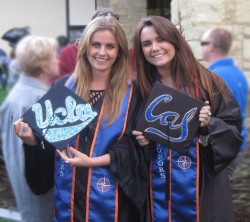 MiraCosta College students have the opportunity to transfer to a variety of public and private/independent colleges and universities. In California, students may transfer to a college or university in the University of California (UC) system, California State University (CSU) system, or various private/independent universities and colleges. Transfer students should be aware of both the entrance and graduation requirements of the university or college they wish to attend. MiraCosta's curriculum is designed to prepare students to transfer to four-year colleges or universities by providing instruction in general education course work and preparatory courses for specific majors.
Students can work closely with a counselor to develop an educational plan that is based on completing articulated courses, which are courses that can be used to satisfy general education and major-preparation requirements at specific transfer universities. MiraCosta's articulation agreements with the public universities in California can be found online at www.assist.org.
As soon as possible after enrolling at MiraCosta, students should choose the specific major area they wish to pursue and the four-year college or university they wish to attend. The counseling faculty is available to assist students in making these important decisions.