Internship Studies Program
Oceanside, Building 4700: 760.795.6772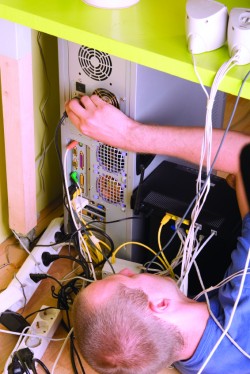 Internships are designed to provide MiraCosta College students with workplace experience and 21st century skills. The Internship Studies Program benefits students, faculty, and the academic disciplines by linking classroom learning to the work world, promoting the development of professional relationships, and adding significant work experience to students' resumes. The program offers business, industry, and organizations the talents and energy of students who not only contribute to workforce development but also strengthen the link between the educational and business communities.
Interns are required to obtain a recommendation from a faculty member in the discipline in which they are seeking the internship. Interns must have been enrolled in the faculty member's class and must have performed well. Guidelines for obtaining faculty recommendations vary by discipline and are available in the Career Center.
Once students obtain an internship placement, a customized class is created that requires students to do the following:
Attend two meetings with the instructor and supervisor at the work site during the semester.
Work a minimum of 60 non-paid hours per unit or 75 paid hours per unit, for a maximum of 3 units per semester.
Develop and meet learning objectives, complete assignments, and document monthly hours worked.
Internships are available in all disciplines and are identified with 292 as their course number.